Avoiding new text books is better for your wallet in addition to being better for the earth, so it's definitely worth taking the time to look into finding places that rent college textbooks or sell used books.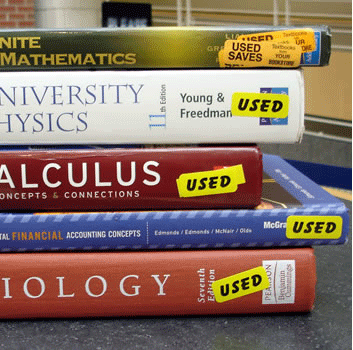 You probably didn't need me to tell that renting books or buying used books will save you green, while also making you more "green" (I know, it's a terrible, un-original play on words, but, hey........nope I got no excuse), but it's a little harder to know where to find said used and rented books. Yes, there are a limited number at the university bookstore, but sometimes they run out, and often you can find the books cheaper from other retailers. I personally prefer used because you have more freedom to highlight and underline, less worries about returning by a certain deadline, you can sell it at the end of the semester to get a little money back ect., but sometimes you find a better deal with a rental. It varies depending on the book or even just whats available at the time.
Another option is ebooks. I personally
love
these because I usually carry my laptop around with me anyway, so having my text book on my mac saves me a lot of weight in my bag, and then I can have my book and my notes in one place and everything is easily accessible. Plus there's no paper, so there's no harm done to our earth!
Etextbooks are also often accessible on smart phones, which makes studying on the go convenient. I can't wait til the day when all of my textbooks are available digitally, so I don't have to lug around all those books!
You can find eTextbooks on Amazon Kindle (you don't need a kindle, just the kindle for mac, PC, or iphone/pad app), Chegg.com, Barnesandnoble.com, iTunes, ecampus.com, coursesmart.com, textbooks.com, ect. For etextbooks you're probably better off googling the name of the book + ebook and hoping something comes up. There are more and more books available digitally every year, but there are still many that are only available in paper form.
Now sometimes you get that annoying professor that requires the new addition of the book that costs you a fortune. I would recommend emailing that profesor to see how important it is that you have the latest edition. There usually isn't too much thats different and some professors are understanding about letting you get an older edition. They wont always be ok with it, but I think it's worth asking since getting an older version will save A LOT of money.
So I know you're wondering where to get these books. We already know the campus bookstore will charge you an arm and a leg, so we turn to the internet for better options.
Here are some of the most popular websites:
If you go to
textbookrentals.com
, it will list many of these sites and compare prices for you!
Also if you order anything from Amazon (text books, regular books, hazelnut milk, magic wands...), students are eligible for 6 months of
Amazon Prime
for free! Amazon prime offers free 2 day shipping on many Amazon products, so its definitely worth checking out!
One last option you have is to check your local library for some of the smaller books you'll have to read throughout the semester. As a theater major, I'm required to read a lot of plays throughout the semester, so I plan on getting most of those from the New York Public Library. Granted the NYPL has a much larger selection than most libraries, but it's worth checking to see if you can get the book for free. If not, you can usually get those smaller books used for only a few dollars at Amazon, Half.com and Ebay.
Well happy text book shopping, if that's possible. Even with rental/ used/ ebook discount textbooks are soo expensive, so hopefully this post will help you find your books as inexpensively as possible. Because it always great to be as green as possible while also saving as much green as possible (I did it again. I just can't resist. I still have no excuse. Sorry. haha).